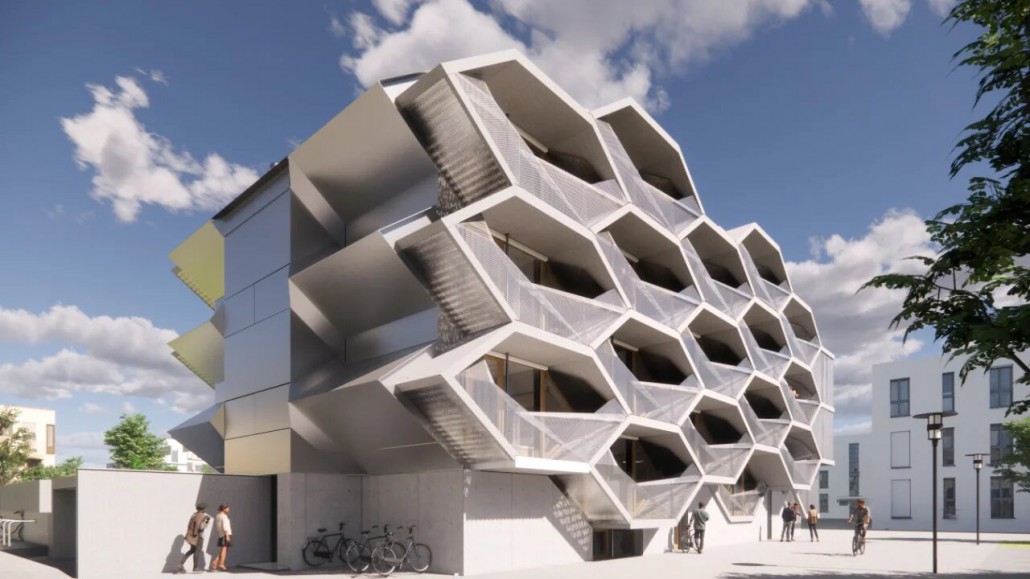 The house should be ready for occupancy by the end of 2022
The living quarters in the "Honeycomb house" are lined with a hexagonal layout.
The architectural building looks like a big gray beehive.
17 hexagons stacked on top of each other stand in The Den Haag street in the trade fair city of Rome.
Architect Peter Haimerl considers the project "unique in the world". The novelty of the idea is that not only the facade, but also the living quarters are lined with a hexagon. So you live in a hexagon. That is: there are no walls, only "sloping floors".
But not only the form is experimental. In addition to two- to four-room apartments, a "large shared flat" is to be built. These include one-room apartments with a private bathroom. Two kitchens and a living room are provided for the cohabitation of residents. The intention fits with Haimerl's basic idea: instead of "living side by side in boxes", a community should be created by "cluster-like living".
A staircase connects the floors. It does not lead in a circle, but straight up.  The private rooms are also accessible by stairs. This leads to a problem: none of the apartments is affordable.
The second building is connected to a common hundred by a bridge suitable for wheelchair users.
A total is 30 apartments.
Visualization: Peter Haimerl Architekten
Photo: Uli Pape
Source: www.sueddeutsche.de